Couldn't sleep, creativity running through my veins, and as always...music in my ears for inspiration. Was listening to the Wale's "The Artistic Integrity" on the Mixtape About Nothing and decided to put together something raw while taking a break from work for clients. Another night of not sleeping, lol but thats normal for me. "5am is the new 5pm!"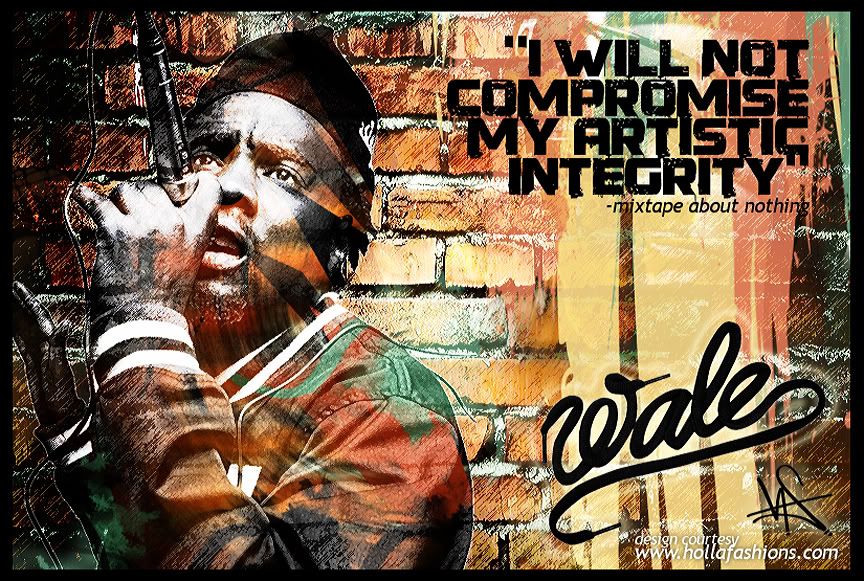 Download:
http://i226.photobucket.com/albums/dd5/young301holla/WaleDesignedByHolla.jpg
[Wale]
Never will I ever utter never to myself
Fall in love with defeat, throw my endeavors on the shelf
I never back up like Cleo Lemon on myself
Lemonade connoisseur life's lemons coming out
When life gets sour know I still devour
I remember Peabody mice crawling up the shower
Now it's motorbikes, warm nights out in Maui
And white bitches and light skinned women be smilin'
DC star, a PG legend
Mogul phenomenon holmes I'm all of it
Yeah, they all love it though critique Jon Lovitz
And whack hoes hatin' on key out in public
See, welcome to fame where most of us is gon' change
If you never do, still niggas look at you strange
Niggas mostly assume, niggas make up they news
Once you made it you cool, they label you brand new
Really in subconscious
They see a star no longer the underdog
So nobody wanna walk with ya
They all talk like you think you was a god n'shit
But you the same that you always is
Yeah, they all convinced but all for shit
This all be different if you had an office key, yeah
And I'm the same, on e'erything I love, or everything I love
Please pardon my integrity
--------------
Also the HF Website has been down for about a week, but I just want to let yall know that its back up and running. I also took the time out to update it a little while planning out version 6.
http://hollafashions.com